James Jinhak Lee, MD, PhD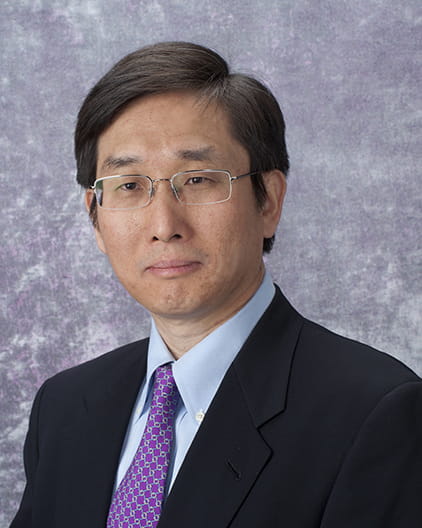 Specialty:

Internal Medicine

Secondary Specialty:

Medical Oncology

Board Certifications:

Medical Oncology

Education:

MD, Seoul National University, Seoul, South Korea PhD

Residency:

Seoul National University Hospital, Seoul, Long Island Jewish Medical Center, New Hyde Park, NY

Fellowships:

National Cancer Instititute, Bethesda, MD Seoul National University Hospital, Seoul,

Languages:

Korean
Biography
James J. Lee, MD, PhD, is a medical oncologist at UPMC Hillman Cancer Center. He specializes in phase I clinical trials of new cancer drugs and the treatment of gastrointestinal (GI) cancers, especially colon cancer, rectal cancer, and liver cancer. His research has been focused on the development of new cancer drugs including cytotoxic chemotherapeutic agents, biologics, and natural herbal agents. He also has a strong interest in the basic and clinical research of colorectal cancer.
Dr. Lee is board-certified in medical oncology and internal medicine. He received a medical degree from Seoul National University and a doctorate in immunology from The Johns Hopkins University School of Medicine. Dr. Lee completed an internal medicine residency at Albert Einstein College of Medicine/Long Island Jewish Medical Center in New York and a medical oncology fellowship at the National Cancer Institute (NCI)/National Institute of Health (NIH) in Bethesda, Maryland. Prior to joining UPMC Hillman Cancer Center, he had been a faculty member of Yale University School of Medicine and Yale Cancer Center/Yale New Haven Hospital, focusing on GI Cancers and Phase I clinical trials.
Dr. Lee is a member of professional organizations, including American Society of Clinical Oncology and American Association for Cancer Research.