Kurt R. Weiss, MD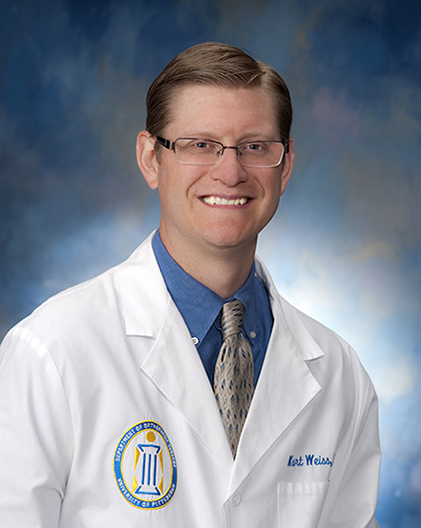 Specialty:

Orthopaedic Surgery

Secondary Specialty:

Musculoskeletal Oncology Orthopaedic Trauma Hip Replacement Surgery Knee Replacement Surgery

Board Certifications:

Orthopaedic Surgery

Education:

MD, Thomas Jefferson University Medical College, Philadelphia, PA

Residency:

University of Pittsburgh School of Medicine, Pittsburgh, PA

Fellowships:

University of Toronto, Toronto Ontario,

Affiliations:

UPMC Shadyside UPMC St Margaret UPMC Children's Hospital of Pittsburgh
Biography
Kurt R. Weiss, MD, is an assistant professor of orthopaedic surgery, Division of Musculoskeletal Oncology at UPMC, and an orthopaedic surgical oncologist. He specializes in orthopaedic cancer care. He is also a surgeon/scientist who directs a basic science laboratory dedicated to bone and soft tissue tumors.
Dr. Weiss is board-certified in orthopaedic surgery, and received his medical degree at Jefferson Medical College of Thomas Jefferson University in Philadelphia. He completed his residency in orthopaedic surgery at the University of Pittsburgh, and completed a fellowship in musculoskeletal oncology at Mt. Sinai Hospital, an affiliate of the University of Toronto.
Dr. Weiss is a member of the American Academy of Orthopaedic Surgeons, Musculoskeletal Tumor Society, Connective Tissue Oncology Society, Canadian Orthopaedic Association, and the University of Pittsburgh Cancer Institute Molecular and Cellular Cancer Biology Program.