What Does it Mean to be Unstoppable?
It means developing personalized approaches that put the patient first. Relentlessly searching for new and better cancer treatments and therapies. And establishing a standard of excellence that is second to none.
Every day, our physicians, researchers, nurses, and staff work together to deliver the very best care for our patients, so they can be unstoppable.
Laurie Sloan – Melanoma Cancer Survivor
When Laurie Sloan was diagnosed with melanoma six years ago, little did she know that the tumors would spread to her lungs, bowels, and lymph nodes. After multiple surgeries and clinical trials, and with world-class experts behind her, Laurie proved to be unstoppable.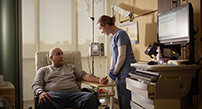 We offers patients access to the latest advances in cancer prevention, detection, diagnosis, and treatment through cancer clinical trials. Search our clinical trials.