Our Doctors & Staff

Lanie Francis, MD
Dr. Francis is a hematologist and medical oncologist at Hillman Cancer Center. As an advocate for healthy living, Dr. Francis practices wellness in her daily life. Dr. Francis is board-certified in hematology, medical oncology, and internal medicine. She is a member of American Society of Clinical Oncology, American Society of Hematology, and Society of Integrative Oncology.
Dr. Francis is the winner of the Ladies Hospital Aid 2014 Innovation Award and the 2015 Leo Criep, MD Excellence in Patient Care Award.
Fallon Degrange, RN, BSN, OCN
Fallon is currently practicing as a collaborative practice nurse for Dr. Lanie Francis. She has six years of nursing experience, all of which have been centered on the care of oncology patients. She earned her bachelor of science in nursing degree from Waynesburg University of Pennsylvania. Fallon has been an active member of the Leukemia & Lymphoma Society patient services committee as well as the Oncology Nursing Society serving both at the Pittsburgh chapter locations.
Danielle Petrina, MEd
Danielle Petrina is the Project Manager for the Wellness and Integrative Oncology Program. She oversees the operational functions for the program including education, events, consult service and the Wellness Suite. Danielle earned her undergraduate and graduate degrees from the University of Pittsburgh.
Nicole Kjanica
Nicole is the Administrative Coordinator to the Wellness and Integrative Oncology program. She serves as the concierge for the Wellness Suite, assists in administrative functions, and schedules all appointments. Nicole has gained administrative experience over the past four years working at Hillman Cancer Center.
Meet Our In-Suite Providers
All of our experts are fully licensed, credentialed, and vetted by UPMC's rigorous standards. The following providers perform integrative services to our patients in the Wellness Suite: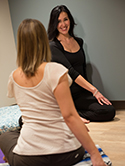 Joni Sturgill
Yoga and Meditation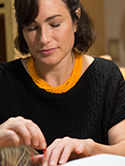 Karen Donoughe
Acupuncture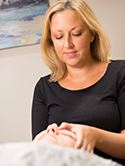 Nikki Remic
Oncology Massage