Kelly Hughes – Diffuse Intrinsic Pontine Glioma (DIPG) Patient Story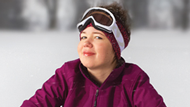 I was diagnosed in April 2012 – five days after I turned 22. I was immediately sent to UPMC Shadyside and put in ICU for a week, where they did a biopsy of my brain. They found that I had a Diffuse Intrinsic Pontine Glioma (DIPG), which is normally something young children get, wrapped on my brain stem and in my left cerebellum.
They were unable to do surgery, so I participated in a clinical trial, which included radiation every day for five weeks. On the sixth week, my blood sugar went to 1270 and I became diabetic for two months and was put on insulin. I was then treated with chemotherapy at Hillman Cancer Center under the care of Jan Drappatz, MD. I finished chemo in September 2013, and my tumor is stable. I'm even working now at a manufacturing company!
My care at UPMC Hillman Cancer Center has been wonderful. The staff, nurses, and doctors are all so helpful and friendly. They always keep the patient first and make sure we are comfortable.
Cancer can't stop me from living my life how I want it, and it can't keep me from being happy. I still enjoy snowboarding, traveling, going on adventures, exploring, and more. My family and my fiancé have been by my side through all of this and I'm looking forward to tying the knot in October 2015.