Brain Cancer and Tumor Radiation
Radiation therapy, or radiation oncology, is often a central part of brain and nervous system cancer treatment.
Radiosurgery, an advanced form of radiation therapy:
Treats brain and spine tumors with precisely focused beams of radiation and no incisions.
Uses image-guided radiotherapy (IGRT) for targeting tumors.
Allows your care team to precisely target cancerous tumors with minimal effect on healthy surrounding tissues.
Radiation oncologists partner with neurosurgeons when using radiosurgery techniques to remove tumors.
Types of Radiation Therapy for Brain and Nervous System Cancers
The experts at UPMC Hillman Cancer Center specialize in many types of radiation therapy for brain and nervous system cancers.
And, they have vast experience in using all types of advanced radiation delivery systems, including: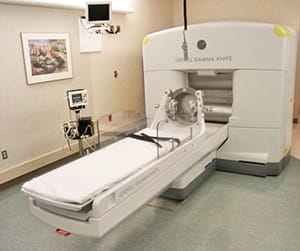 Contact the Neuro-Oncology Program to Make an Appointment
To learn more about brain and nervous system cancer or to make an appointment, you can: